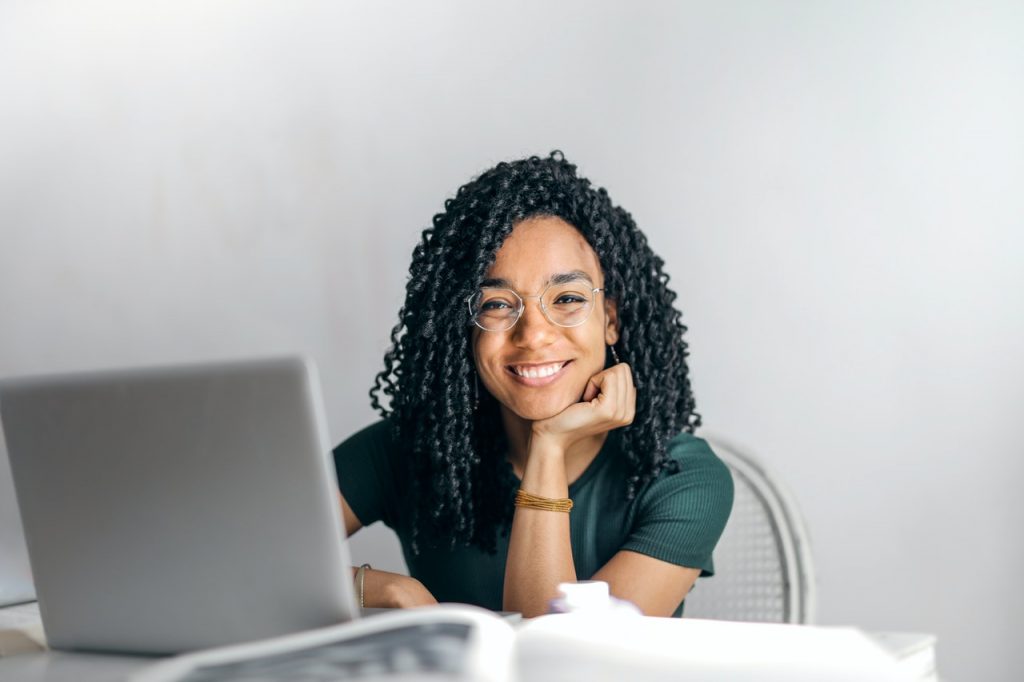 A few weeks ago, we reached out to acknowledge the difficulties of dealing with the chaos created by both the COVID-19 pandemic and recent uprisings over police violence. In addition, we asked you about how technologies are playing a role in your business life. We noted that it can be hard to stay optimistic, but facing challenges with a positive mindset is part of being an entrepreneur. In addition, we were interested to learn about your uses of technology – so-called "tech hacks" – to create, operate and grow your businesses.
"It's been a heavy time indeed"
Many people prefaced their recommendations on "tech hacks" with a general commentary about the current environment. Latasha Jackson (Virtual Reality Real Estate Advisor) commented, "It's beautiful, encouraging and powerful to see our country coming together during these unprecedented times." Others, like Chanae Richards (Oloro Interiors) echoed Latasha's optimism and said she expects the ultimate result will be change, but also said, "It's been a heavy time indeed. This is a watershed moment. And some days, making heads of tails of these times can be crushing."
Although some noted that their businesses had come to a standstill, others have found opportunities amidst the chaos. For example, Barbara Oldums (Industrial Solutions Company) said, "We received more orders [for their industrial wipes] in two days that totaled more than what we sold in all of 2019." Jera Oliver (Mahogany Manifesto) noted that technology actually made it possible to start her holistic wellness business during the pandemic. Victoria Chuard (Petit Pippi) commented that, "This period has…been a big opportunity for e-commerce businesses and tools like chat bot and social media paid marketing."
Faced with a decline in business, some entrepreneurs have used the COVID-19 period as a time for pivoting their businesses. For example, Vanessa Bartley is pivoting to become a web developer and is using online resources to teach herself design skills, digital marketing and project management. Her goal is to build a "no-code" platform to lower the barrier for entry into tech. Carolina Vasquez (PacificTrade.global) pointed out the need for flexibility, saying that in the face of uncertainty and lack of control, entrepreneurs have to recognize, "whatever worked in previous time[s], may not work from now on. We have to explore new opportunities and be receptive to change."
There were many ways that women commented on how to help others during the pandemic. Some, like Stacy Cassio (Pink Mentor Network) has contributed by writing articles on topics like mentoring in a work-from-home (WFH) culture. Others, like Yawntreshia Colemen (Coleman & Company) is interested in ways to support other owners so she began to use StreamYard "to interview small business owners so they can share how we all can support them during COVID-19 and the civil unrest/protests." Chante Harris (Capalino+Company) is using Patreon, a platform that "has created a unique and creative way for individuals, organizations, and companies" to support organizations like the membership she is building for women of color in sustainability. In a similar vein, Renita Martin (Browzilla) co-created a website called Creatives are Essential that allows creatives to who need support to find individuals who might either donate or provide social media amplification. Susie Galyardt (XIOSS) reported that she uses various technologies to enable a virtual desktop interface so her clients can have their remote employees to work safely and still have the "feel" they are working directly from their corporate office. Others innovated ways to attract new clients. For example, Tonya Cross (Accented Glory) was part of a pop-up retail program for Black women entrepreneurs hosted by Thynk Global. "[T]he mission was to help small businesses boost online sales and presence during COVID-19. It was also a great opportunity to virtually meet and engage with other women in business." Stacie Sussman, (SSR Digital Group), recently featured on the podcast Mind Like a Mentor , said "COVID-19 is a perfect IRL [in real life] example of where things can just go poof! We urge every company to take a hard look and ensure their operations are in place." She has been hosting free webinars and free consults to build awareness for her business and also opens up her calendar to meet with at least 3 new connections each week. Stacie also created a "formal business development outreach campaign to cold prospects to get in front of new leads."
Toni Hernandez (Toni Hernandez Brown North America) asked her clients (leaders and founders) the question: "In today's climate, every moment is calling on us to show up as a better leader. What are you doing different so you can show up better for your team?" She shared a particularly meaningful answer from one client.  "These last 3 weeks have been increasingly more difficult than others. Partly because never has my life intersected on ALL fronts: I am a leadership trainer + entrepreneur. I am the wife of a white male law enforcement officer. I am "brown" by America's standards. I am proud of all it. I have the gift of being a visionary-seeing the world through an infinite lens in a time when I feel bombarded by finite attitudes expressed in various ways, ie. conversations, news outlets, social media, etc. The bigger picture is what inspires me. In my opinion, what we are experiencing is a colossal awakening. Our reality is less about winning and more about advancement for both, businesses and humanity."
Website and Social Media Technologies
In addition to reacting to the current national and global environment, Institute participants answered questions about what free and paid technologies are helping their businesses. There were many mentions of what has become the standard in social media posting platforms, such as FaceBook,Twitter, and Instagram. A large number of responses focused on the use of technologies to build websites and manage social media. For example, Buffer, Canva, Flypaper, Lead Pages, Kajabi, Mighty Networks, Squarespace, Weebly, Wix were mentioned as tools for creating social media posts and/or building websites. For scheduling content on social media, participants used applications such as Hootsuite, WhentoPost, Later, and Planoly.
There were also many mentions of ways to communicate with clients through Instagram and Facebook (FB) Messenger. JaVett Love (Javettlove.Inteletravel) uses her travel page and group on FB to "stay connected and interact with my travel members also with the option to go live and have hangout sessions." She also suggests using professional FB groups to "help you network and expand your industry knowledge and brand while forming better customer relationships and experiences on a more personal level." Communication with customers via email was also a common task, making use of email marketing platforms such as Zapier, Constant Contact, Mailchimp, Flodesk, and Klaviyo.
In order to put their best foot forward online, respondents also suggested some technologies for touching up what they post, either in terms of written content (e.g., Grammerly, Adobe Creative Suite, Adobe Illustrator, WordSwag) or to improve their digital personal appearance (e.g., Facetune). Connie Kwan (Product Maestro), who teaches business storytelling, takes visual enhancement to a new level. Because she does so much virtual training, she uses Figma to create a background with her company's logo for use during video conferences and also uses Snap Camera and its Lens Studio to add makeup to her face digitally.
Many participants mentioned ways they are adding video and/or audio to their websites and social media posts. For example, Renita Martin (Browzilla) uses the IGTV video platform to "create buzz for new product launches." Others use products like eCamm or StreamYard to do video streaming of events. Latasha Jackson (Commercial, Residential and Virtual Real Estate Advisor) has been innovating in the real estate space, using the Immoviewer app for 3D tours in homes and various technologies (FaceTime, Marco Polo and What's App) for live video tours. She also uses BombBomb to add video to email invitations for her webinars.
Organizing your life and business
Some of the technologies mentioned by the entrepreneurs who responded were helpful in organizing and running one's business and personal lives. Here are some examples:
Meetings
Zoom, Google Meet, Go to meeting, Microsoft teams, Facetime – team meetings
Go to webinar, Webinar jam, Whereby, Jitsi meet, BlueJean – video conferencing and webinars.
Virtual Coffee Break – create coffee groups.
Calendars and Project Management
Calendly, Deal Room, Voxer (team communication), Asana, Notion.so, Slack -team communication.
FunRetro, Miro, Mural – visual collaboration, planning.
Timelogger app, Pomodoro Technique, Monday, 17hats – time management.
Accuity – appointment scheduling.
Marketing & eCommerce
Google Business Pages – advertising. For example, Shakia Guest,(KissBTS) uses it "to make our small business more visible since we are a fully online accessories/apparel site."
Shopify – For example, Arion Long (Femly ), said she has used it to support her clients "in a manner that was intimate, while providing much needed information to help increase self-care."
WooCommerce, Etsy, Amazon – ecommerce.
Active Campaign – CRM (customer relationship management).
Finance
Wave – accounting.
Dubsado – range of office management.
Waveapp – invoicing.
Stripe, Paypal – online payments.
Docusign – signing of contracts.
Personal/Self Care/Education
Headspace – to manage stress.
eCornell Keynotes Live Webcasts for encouragement. For example, Ana Garnica stated she was devastated by the pandemic but these "keep me having faith."
Product and Event management
Glideapps – turns spreadsheets into apps.
Evite, Eventbrite – invitations and scheduling.
Specific to Healthcare Industry
Simple Practice, doxy.me – HIPPA compliant electronic health records software that allows for secure videoconferencing capabilities.
Specific to Fashion Industry
Forma– photorealistic try-ons. For example, Tempestt Storm (Fits4Yoga) uses it so client can try things on virtually during a time when a store visit is not feasible or safe.
Specific to Agricultural Industry
Garden Catch – marketing local fruits and vegetables. This website was co-created by Andrea Margida, founder of Morning Mist Farm. It is a free app for small growers to connect directly with customers who want to buy local produce.
Specific to Online Learning
Teachable, Thinkific – online course development. Nicolette Piaubert, used the latter to create a tutoring center (Gab-Nic Excelsior Nursing Tutor)and liked the feature of "testdriving" the tool before making a full commitment.
Specific to Hospitality Industry
DinDin – restaurant app. Valrie Grant (GeoTechVision) mentioned this as a contactless restaurant solution that "allows booking a table, pre-ordering meals, digital ordering, checking in at a restaurant, in app alert when ready to be seated, digital payment, etc." so the diner can "step into a safe restaurant" without fears of touching a physical menu.
Connecting with Other Small Businesses
We also asked Institute participants about how technology is impacting the way they connect with other small businesses. For Erica Card, (Ericakes) YouTube and Instagram have been helpful to create networks and meet other business owners. Many mention Facebook and Fiver as places to find/use/support others. Kenya Bradshaw, (The Gift Wraps), featuring authentic African fashion and craftsmanship, is part of Facebook groups that share resources. Of the Facebook groups she has joined, Kenya's favorite serves as a useful tool for members to useful information. Kenya also noted that Instagram provides affordable access to training, webinars and video chats with experts or other business leaders. In a similar vein, Shakia Guest (KissBTS) uses Alignable which helps local small businesses connect with each other and Carol Anderson (Anderson Finance Consulting) taps into alumni connections with Alumni Alliances. Other technologies for connecting included: Small Local Business Groups on FB, Nextdoor, Melanin Enterprise (connects businesses of color with people of color) and NAPO's (National Association of Productivity and Organizing Professionals) interactive networking tool, POINT.
LinkedIn Recruiter and Google maps were mentioned by Paulette Hernandez, (VTS3), who said, "I look for X business industry around me, and if it says 'claim this business,' I contact the owner and offer my services." Hillary Scott (Heck Yes Y'all) finds Instagram a great place to find other business owners. "[T]he ones I have connected with have been so supportive, even if they don't have a direct connection to what I do."
Wish Lists for Technology
Our final question was: "If you could talk to a group of talented tech folks, what would you tell them to design to help small businesses like yours?" The wish lists for technology were broad and varied. Before presenting some of the the categories and recommendations, consider these overarching suggestions. Tempestt Storm (Fits4Yoga) and several others ask the expert to make technologies more accessible and relevant to small businesses rather than designing for corporate entities. Stacie Sussman (SSR Digital Group) advised those targeting the small business owners to: "Keep it simple. I know there's so many buzzwords to overcomplicate things. The more clear, concise, and solution-oriented your value proposition is you will prevail over the competition." Now, on to the specific wishes expressed by the respondents.
Finance
Several women noted that there is a need to design more diverse digital banking solutions. For example, Barbara Oldums (Industrial Solutions Company) wishes that loan evaluation technology could include a format that bank loan officers could use to truly measure smaller companies, saying, "Something like this would separate us from the model bank loan underwriters use for their big company's loan approvals and give too many denials to Micro Businesses." Victoria Chuard (Petit Pippi) wants a technology to help her to "get realtime visibility into suppliers' inventory levels and timeliness in communications, like an API to connect to platforms like Shopify, Trade Gecko, etc."
Networking
A desire to connect and get referrals to other entrepreneurs with similar needs inspired Hillary Scott (Heck Yes Y'all), to ask for a hub for folks to "bounce creative ideas and feedback off one another." Others asked for an online social platform to support and highlight entrepreneurs in specific demographics (women, Black, Latinx, etc.). Others wanted a directory that would list businesses by location, and include factors that could be used to facilitate one-to-one matches by interest and values. Other suggestions included a tool to help find freelancers for design, and assistance with marketing, and aides to technology challenges, like "appifying" your product.
Marketing
A few respondents were looking for more effective, fast-growing forms of advertisement via online platforms. Others asked for a more affordable and effective way to post ads to various programs platforms and help with an affiliate app to bring additional traffic. (Note: we found this list on top mobile affiliate networks.)
Social Media/Website Posting Support
When it comes to social media, Felicia Lewis (Belle Chic Noire) would like to see a platform that allows posting to be chronological, rather than driven by algorithms. Jaharah Muhammad (Penny Loves Fitness) has experienced the pain of sharing bandwidth (she had to add another line) and as a result wishes for a feedback-free way "to streamline internet bandwidth for internet applications that utilize video and music." Others are looking for easy ways to add content to their sites. For example, Dr. Natalya Yakirevich (Cumberland Family Chiropractic) would like "an easy way to create a series of 2 min video snippets that business owners could easily put themselves on their website, on Google or other social media pages that would highlight something about their business, give tips, show how they run their business or how a treatment takes place."
Small Business Support and Advice
Erica Card, (Ericakes) and others requested an easy way to find resources, such as an online Information Desk or something to guide new startups, especially local checklists with all the relevant guidelines for new businesses. (When Erica started her business, she misunderstood the rules and didn't realize she was not allowed to start a home bakery.) Several others requested planning and organization tools, such as digital planner that combines the best of project planning and everyday task planning.
Customer Management
Respondents were also interested in the ways technology could help them with their client bases. For example, Renita Martin (Browzilla) is trying to build "a small but mighty brow community" and wishes she had an application that would let her clients schedule, pay, review and upload photos. LeKeisha Grant (Ambitious and Annoyed) thinks it would be nice to have an application for conversation that wasn't attached to social media so as to " keep the view 'clean'."
Tech Help and Virtual Reality
Finally, contributors offered some innovative thoughts on approaches to technology. For example, Brieanna Singletary (Brieanna Bugatti) is looking for a way to "integrate IGTV and YouTube using an iPhone." Others want help making an app, like Reia Chapman (Social Justice Emotional Support Collective) who wants to "streamline communication with an app for free mental health support." Latasha Jackson (Commercial, Residential and Virtual Real Estate Advisor) wants to be able to bring virtual reality (VR) to life, so her avatar could guide buyers looking at property. Similarly Paulette Hernandez, (VTS3), envisions an app for virtually trying things on. Susie Galyardt (XIOSS) explains that VR is coming into its own: "This historic pandemic event and resulting isolation, catapulted Virtual Reality technology in business and healthcare from 'this is nice to imagine' to 'we need this now.' Virtual Reality is no longer just for gamers and entertainment. The current solutions available are expansive and include corporate training, soft skill training, VR for multiple teams, corporate collaboration, VR continuing education, Immersive 3D data presentations, and VR sanitary training, just to name a few, as the possibilities are limitless."
Conclusion
We have learned from asking this and other questions from participants that our Institute entrepreneurs have resilience, ingenuity and resourcefulness. By using technology to create, grow and cultivate their businesses, despite the crises we face in this country and globally, they constantly show their innovative attitude and ability to thrive in uncertainty. Even though these times can be crushing, we believe in all of you!